Oztop Music Studio has been hired for many famous artists to record/mix legendary albums over years as well as rehearsal situations.
Recording Equipment List
Pro Tools HD2 system
Apogee AD 16X and Lynx Aurora16 converters
Avalon VT-737sp Tube Channel
Audient Asp008 8 Ch. Mic Pre
Avid Control 24 (DAW controller with 16 ch. Focusrite preamps)
Genelec 1031A monitors
Fractal Audio AxeFx II
Rode K2 Tube Condenser Mic
Warm Audio WA-14 Condenser Mic
Rode NT5 Condenser Mic pair
Rode NT4 Stereo XY Condenser Mic
AKG D112 Kick Mic
Shure SM57
Shure Drum Mic sets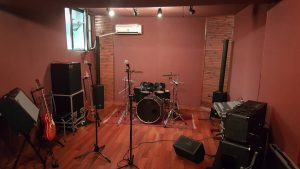 Backline
Mapex Drumset
Marshall JVM 210H Tube Guitar Amp &1960 Speaker
Gallen Kruger Bass Amp
Fender Combo Guitar Amp
Behringer XAir 18 Digital Mixer
LD Systems Maui 11 Mix Speakers
JBL 10″ monitor
Ihlamurdere Cad. Meddah İsmet Sok. 23/C Beşiktaş İstanbul
Tel: +90(212)327 88 60
Mob: +90(555)327 88 60
E-mail: oztopmuzik@gmail.com
Some of the albums recorded/mixed:
Recording studio, rehearsal studio, voice over studio in Besiktas, central Istanbul. High quality service for every budget. Best results with high technology equipment and experienced staff. Only address in Besktas with an easy to access location for your audio needs. Pay less for jingle, voiceover, karaoke recording.